The Great Room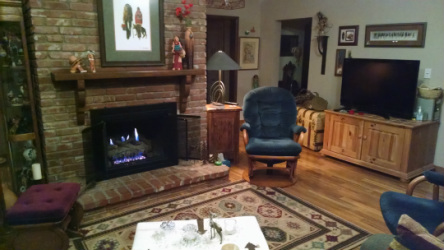 The Great Room is the heart of Tucked Inn. Our guests are greeted in the Great Room upon arrival and offered a special beverage and a moment to sit and relax after the day's travel. Friendships are made, stories are told. On cool evenings, a log fire often burns in the old brick fireplace in the center of the room. The "greatness" of the room, is the comfort our guest's feel. A room quite unique, but always comfortable.
---
Dining in Stylish Comfort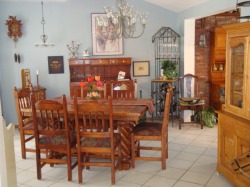 Guests are served a special breakfast in the dining room. A special 100 year old Kansas barn wood table provides the perfect place for pampered guests. Table settings charm our guest even before breakfast is served, and each day it is different. A setting in which many guests like to linger - but that is fine. Lingering with family or friends around this special table seems to enrich the soul. All a part of the "tucked inn" experience.
---
Additional Features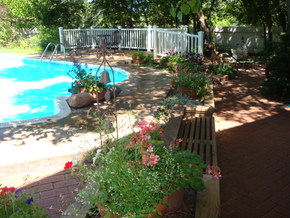 In season, guests are encouraged to soak in the secluded "back yard" at Tucked Inn. A brick patio leads to the deck next to the pool. Flowers are abundant and always meant to be enjoyed. Or follow the brick path into the "woods" where you may find yourself in a place of peace and solitude.
Weather permitting, guests may enjoy breakfast on the brick patio and soak in the sounds and sights of nature. Many types of birds are drawn to the back yard and mornings are especially fun. Cardinal, robins, oriels and other birds are often seen. Passing hummingbirds may be seen briefly, not because of bird feeders, but because of the flowers. At dusk, bats take to the sky in search of insects. Guests always enjoy the frolicking play of squirrels in the trees.
---
The Secluded Back Yard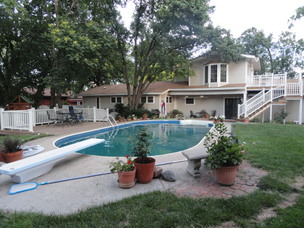 The secluded back yard offers many options. They may include relaxing, refreshing yourself in the pool, reading a good book, enjoying a favorite wine on the deck, visiting with family or friends.


Your hosts, John and Susan, spend a lot of time in this setting during the summer and they welcome you to share it with them. Memories are made here.
---
Our Front Porch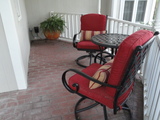 Guests may enjoy our front porch for morning coffee or perhaps a glass of wine in the evening. Always a great place for a quiet visit with a friend. Locals often walk in the morning and evening - you may receive a "Hello" or a friendly wave.
---