Midway USA - Edwards County Historical Museum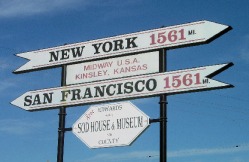 Located half way between New York City and San Francisco, Kinsley is knows as Midway USA. In Midway Park on the west edge of town, where highway 50 and 56 join, a sign marks the location letting travelers know they are half way. A favorite photo spot for travelers.
Located in the park is the Historical Museum which includes an actual Sod House that you can visit. This museum provides a look back into the rich history of the founding families of the area. And it's free - donations are appreciated
.
---
National Foundation for Carnival Heritage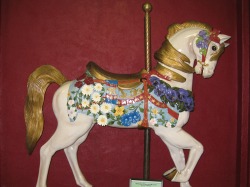 A unique museum preserving America's past of the traveling carnival. Kinsley is an old carnival town dating back to the early 1900's, when the Brodbeck family who farmed in the area, decided to buy a merry-go-round. They started a family tradition leading to six carnivals calling Kinsley home. When early carnival is mentioned anywhere in the country, the Brodbeck name is usually connected. Located in downtown Kinsley, this museum will take you back to your childhood when the carnival arrived in town. A truly unique experience - Tucked Inn guests can be given a special guided tour of this rich part of American history.
---
Fort Larned National Monument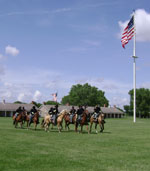 The best preserved fort on the Santa Fe Trail, this National Monument is a must visit. About 20 miles to the northeast, a visit to Fort Larned and the Santa Fe Trail Center is recommended. Known as the Guardian of the Santa Fe Trail, a gives you a chance to experience military lief on the Santa Fe Trail. Established on the prairie in western Kansas, troops stationed at the Fort protected mail coaches, freighters and trail traffic.
---
Dodge City's Boot Hill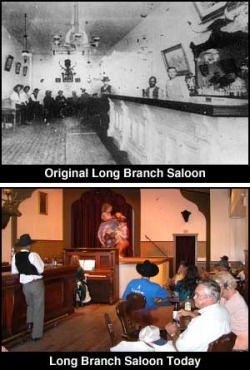 Dodge City was founded in 1872 and quickly became the world's largest shipping point for Longhorn cattle. Dodge was the wildest of the early frontier towns, but law and order was soon established with the help of men such as Bat Masterson, Wyatt Earp, and Bill Tilghman. Front Street buildings are reconstructed, exhibiting hundreds of original artifacts representing Dodge City in 1976. And don't miss the shoot-out on Front Street and the evening at the Long Branch Saloon.
New Boot Hill Casino - Following in those early days of Dodge City, the Boot Hill Casino recently opened as the first state owned casino in the country. Located on the west edge of Dodge City.
---