Our Tucked Inn Cottage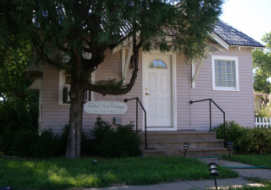 Our cottage is a one bedroom hideaway, complete with kitchen, living room, bedroom with queen size bed.
The cute bath finishes the special accommodations.
Also furnished with a sofa sleeper, the cottage will accommodate 3 to 4 guests. For heating, a charming "bed & breakfast" fireplace provides just the comfort needed for the cooler night or when the snow is falling, as well as a romantic setting for that special evening. Basic cable tv is included, if you must catch up on the news of the real world. When in season, guests especially enjoy coffee on the secluded patio just off the cute kitchen which offers the conveniences of home. A truly special place to kick-back and relax.
One visitor exclaimed, "I think I'll just retire here."
The Cottage has charmed our guests as the "perfect" spot for a second honeymoon as well as a great place for your family to enjoy.
---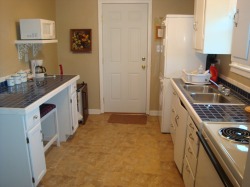 A modern kitchen with the conveniences of home. The door opens to private patio great for morning coffee.